COVID-19 – The Rise of the Robots!
There's no doubt that COVID-19 is driving digital disruption. This isn't a dystopian world of robotic overlords, as depicted in the Terminator movies. It's more akin to Jarvis from "Ironman" - Assisting its human creator, as opposed to replacing him. Chatbots are fielding customer service enquiries, automated production lines are replacing staff shortages and robots are helping doctors distance from patients. Is this the crisis that robots were built for?
So?
From disinfecting robots to providing healthcare assistance, unmanned vehicles to teleworking robots and food preparation in restaurants; robots and humans are working closely together than ever before in the current pandemic.
In Amazon's warehouses, there are reportedly 45,000 robots stationed across 20 fulfilment centres globally. Meanwhile in France's winemaking regions, "wine-bots" are being used to prune vines, necessitated by seasonal labour shortages.
In the medical world, autonomous robots are being used to clean rooms and disinfect surfaces with UV light. UVD Robots is a Danish run company which has made robots capable of disinfecting pretty much anything they aim at, by using powerful short-wavelength ultraviolet-C (UVC) lights. These are strong enough to shred DNA or RNA of any micro-organism they come into contact with. Impressive stuff. (We can only hope the robots don't rise and turn their UVC beams against us!)
Robots are also being used to deliver supplies. From hauling food and laundry to delivering drugs. Yes, robots have turned drug pushers! Enter Tug, aka Tuggy McFresh, the autonomous medical robot doing the hospital rounds at the University of California's San Francisco Mission Bay wing. Using digital maps to navigate rather than beacons, they can perform three-point turns and flip 180 degrees. These LINEN TUGS can manage 1000 pounds of laundry while the Food Tugs deliver 1000 meals a day.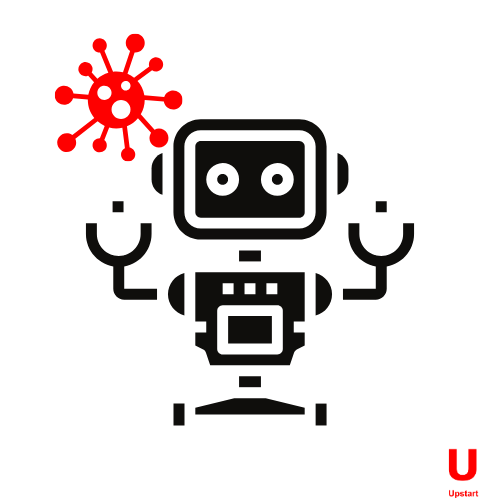 So What?
The robots are about supplementing and supporting, not eliminating jobs. They are being used to "un-man" laborious tasks.
The very first industrial robot was introduced to the U.S in the 1960s. Robots today are more affordable and advanced than ever before bringing us to today's position where many sophisticated robots and AI are augmenting human workers.
COVID-19 is escalating the speed and necessity to automate more of our systems. With social distancing affecting everything from labour shortages to delivery and transportation issues, robotics are rising to the challenge - playing their part in supporting their human counterparts.
Arguably, robots are accurate and can deliver high-quality output. They rarely make mistakes and operate with precision and speed, unfazed by repetitive tasks. They're also able to work at a consistent pace - useful from a business planning perspective - and as this crisis shows, they are not susceptible to viruses (at least not biological ones).
There are overwhelming arguments for protecting precious doctors and nurses on the frontline. Yet this turning more tasks over to robots in an area such as medicine is challenging. Medicine is one area where the need for compassion, intuition and quick decision requires the human touch.
This pandemic is likely to accelerate the development of more robotic technologies implemented across various industries.
As retail remains closed through the developed world, home delivery is an area which is massively resource constrained. In a previous post we looked at how self driving cars and trucks were becoming a reality with delivery giant UPS taking a stake in the market. Two companies, JD Logistics and idriverplus both donated unmanned delivery vehicles to help with the recent crisis in China.
Ocado, which moved from being a delivery company to a technologies supplier, is aiming to roll out its warehouse robotic and home-delivery technology to other supermarkets, under a licensing fee scheme. According to Bloomberg, the UK FTSE 100 company is the only one to have so far shown a gain on the year. Up 7.6% since the end of 2019, no doubt fuelled by a recognition that demand for home deliveries will surge during the pandemic. Ocado is primed and ready to capitalise on automated fulfilment demand when COVID-19 becomes yesterday's news.
So Now What?
For humans, the race is on to develop a vaccine for COVID-19, and there is no prospect of this happening soon. Meanwhile retail, healthcare, transportation and agriculture are rapidly dealing with their reliance on human labour, and working at speed to find solutions at scale.
As we recover, the industries who survive will be transformed beyond their current states, and look nothing like their pre-pandemic selves.
If you're in any of these sectors and not already dealing with automating either physical or information-based processes, it's time to start here, start now.
If you're not in these sectors, take time to think about what this means for you, your business and your sector. Here are three things to consider:
Increased Efficiencies - Are there any areas of your business that can be automated now for cost and resource efficiencies but also to better protect the safety of workers in risky jobs?
Enhanced Skills Development - Can you use this as an opportunity to free your talent from mundane and repetitive tasks, enabling them to step into more challenging roles that create more wealth and opportunity?
Tackling Disruption - How can these disruptive technologies be harnessed to bring about positive change as companies and individuals reinvent and re-train themselves?
It's been said this is a crisis for which robots were invented. One thing is for sure: they will certainly be part of the post-COVID-19 future.
Want to talk?
To find out how your organisation can better collaborate
Stay in the loop.

Sign up to our newsletter