Health – Between a Digital Rock and a Hard Place
In the first of four posts from the D:Health Strategic Forum Dominic Pride looks at how disruptive forces from players large and small are forcing change at unprecedented speed.
Today anyone in the business of delivering health - from pharma to devices to hospitals - is stuck between a digital rock and a hard place.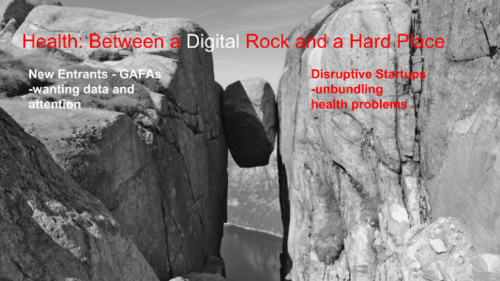 On the one side is the digital rock - new entrants wanting to play in health. The GAFAs, Google Apple, Facebook and Amazon, have business models which are based on hardware, data or attention. They're huge, very well established and they might be using a similar product to yours at but using it as a loss leader for their business of exploiting data or attention. And health is just one of the many industries they're targeting.
Over in the digital hard place, there are consumer-focused startups unbundling aspects of healthcare and solving them one by one, faster than health systems can move.
What we've seen is that in every industry - whether it's media, telecoms, finance and retail - disruption lowers the barriers to entry, letting new entrants play. Health is no exception to this and the disruption is now underway.
In our next post we'll take a look at some classic responses to disruption, and maybe some lessons in how not to act when disruption comes knocking.
Want to talk?
To find out how your organisation can better collaborate
Stay in the loop.

Sign up to our newsletter