Meet the Disruptors: Small Robot Company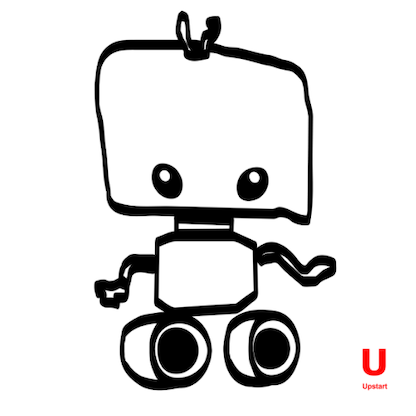 In a series of candid interviews, Upstart meets the disruptors and innovators involved in enabling and delivering emerging technologies. These are the companies driving digital disruption, changing the landscape of different industries and challenging established and outdated systems.
This week it's the turn of Ben Scott-Robinson, Co-founder of the Small Robot Company, who talks to us about Tom, Dick, Harry and Wilma and how they're systemically changing the face of arable farming throughout the entire chain.
Who are you?
I'm Ben Scott-Robinson, Co-Founder of the Small Robot Company.
And how are you?
I'm actually quite excited at the moment. With everything going on in the world right now, there's been an awakening and acceleration around the possibilities open in our industry, some of which are expected and others that are still "hidden".
Where are you?
Small Robot Central is based outside Salisbury on a site where missiles used to be stored for the Navy. Neighbours include a rocket company, who have a rocket test rig out the back, as well as a high-security facility storing valuable art for national art galleries. Plus we have lots of sheep and butterflies. Security is high and it's the perfect environment to let robots loose from their "kennels".
Tell us two things we should know about Small Robot Company:
One: We're not interested in dealing with just one small part of the farming process. Instead, we're systemically changing the entire arable farming system. From before the seed goes into the ground, right up to the point of harvesting, we're rewiring how that entire process works.
Two: We started first with the user, not the technology. We spent six months out on the road talking to farmers and getting their feedback. Understanding their pain points, existing capabilities, propensity to adopt new technologies, any fears for the future and their cost base and revenue model.
And One Thing That We Shouldn't
We're a very open company and don't hide a lot of stuff. But secretly we're supported by some really big people! Let's just leave it there.
What's the problem that you're solving?
It's pretty straightforward. The current industrialised agricultural system is broken on so many levels. Here are just a few:
Stunted revenues: My business partner is an arable farmer. After a stint working at Accenture, he inherited the family farming business and looking at the books, quickly discovered that yields and revenues for wheat production and arable food production hadn't increased since the '90s yet the costs had almost doubled.
Systemic problems: His research confirmed that this was a systemic issue across the whole of the UK as well as globally.
Outmoded systems: The main problem is that the "third agricultural revolution system" is completely out of date. Viewing a farm as an outdoor factory, where the fields are the factory floor and the machinery required needs to be efficient and scalable no longer makes sense.
Use of chemicals and input: By working on a per plant understanding of the crop, we can just treat or kill the plants we need to which massively reduces the amount of input, use of chemicals, energy reserves required all of which has a beneficial environmental impact.
Damage created by traditional ploughing methods: Ploughing damages the soil and is hugely energy-intensive.Because we use very lightweight robotic vehicles, there's no need to plough which is massively damaging to the environment.
Environmentally friendly way of increasing average yields: Our robotic technology is able to produce a theoretical increase in yields of anywhere between 40-60%
Use of tractors: The greatest innovation in agriculture which today is the biggest bane, is the tractor. Weighing up to 40 tonnes, they crush the life out of the soil which means you need to plough; our lightweight robotics provide the solution.
"Digital disruption is going through one industry at a time and farming is next. "
— BEN SCOTT-ROBINSON, CO-FOUNDER OF THE SMALL ROBOT COMPANY
Who are you solving the problem for?
Farmers, not just in the UK, but globally.
Our conversations confirm that arable farmers the world over are experiencing the same problems: from the US to Ukraine, Australia to Africa.
The opportunity for farmers is massive. Ultimately, we aim to deliver a "better than organic" system. Increasing yields, reducing costs while also increasing the value per tonne. The potential for farmers is huge.
Tell us more about the technologies you are bringing together.
Most arable farmers' propensity to adopt innovation is restricted by capital expenditure. When subsidies are removed, they're typically running at a loss of around £180 a hectare per year, so any emerging technologies need to easily fit into their existing infrastructure.
Farmers need to have faith in the reliability of new technologies and that they'll work straight out the box. They're also driven be return on investment so new technologies adopted tend to be incremental as opposed to revolutionary.
That's why the first thing we needed to do at Small Robot Company was to address the business model. Rather than selling them a robot that did something, we looked at a service model. Approaching the business from this perspective allowed us to go back to basics and look at the very principles of "what is arable farming".
We identified three key areas of interest:
Looking at what's going on; soil, crops environment
The planting process; pre-preparation
Crop care; feeding, weeding and seeding
This meant that rather than having one large, cumbersome multipurpose machine, we could create smaller, precise machines adopting specific technologies to carry out specific tasks which is how Tom, Dick and Harry were conceived.
We use a cloud-based OS back at the robot's "kennel" which addresses issues of connectivity, combined with machine learning and AI to understand more about the individual plants. The easiest way to transfer the sheer scale of raw data being collected is by post. It just can't be sent over a network. One to one imagery is being collected as well as soil health information and lots of other interesting data. The amount of data collected is vast.
The control mechanisms for the robots work over LoRa 1 and low bandwidth but super reliable Sigfox.
So who are these robots?
Tom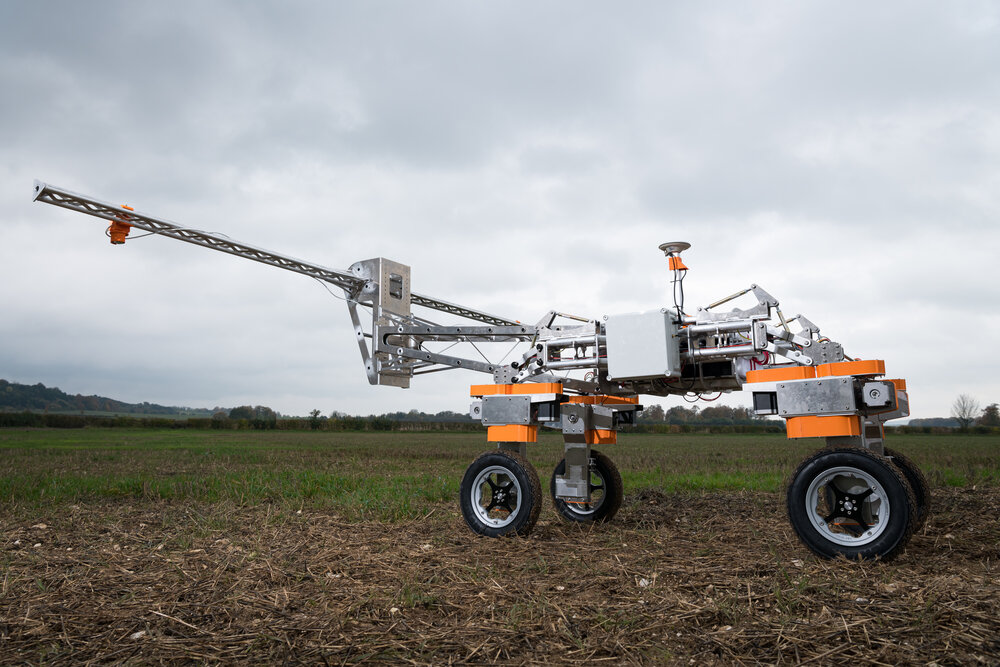 Tom is a small lightweight robot that fits onto a standard Euro pallet and goes into the back of a Citroen Nemo. It collects data at 20 hectares a day. It's already designed and by October 2021 will be able to operate completely autonomously, housed back in its "kennel" where it will feed the information collected into an Edge-based system.
Wilma
That information is fed back through an OS called Wilma. Wilma is the brains of the operation. She takes all the data, pictures and information and translates it into a per-plant view of the crop, and instructions for Dick and Harry.
Dick
Dick is many things which break down into three main functional areas:
Weed Killing - crucial, as many weed-killing chemicals have been or will be banned. Non-chemical weed killing is very much the future of arable farming.
Precision Spraying Mechanism - Dick allows this to be performed with accuracy and precision without damaging the plants.
Feeding - 60% of all current fertilisers get washed away into water supplies, causing pollution. Dick can administer feed with precision into the roots of the plants.
Harry
Harry is a planting robot which replaces the need for a heavy tractor and has a footprint on the soil equivalent to that of human, as opposed to a 40-tonne machine. ON top of this, the location of each seed is recorded. To achieve this, draft-force needs to be significantly reduced. We took our lead from manual processes popular in the Sub-Saharan region and mechanised these.
How different will agriculture look in five years time?
I think that the level of change in farming will be exponential.
Companies who are ailing right now are not the ones in danger of systemic change. It's the ones that on the surface think they're doing well and investing in innovation who are at risk. The ones who are operating under the illusion of "control". Companies who think they have time to slowly evolve, sunset their existing equipment and migrate over customers on a timeframe that suits them will come unstuck.
Digital disruption is going through one industry at a time and farming is next. The key message is; when you're at the point where you're having a conversation in the boardroom about cannibalisation of revenue, you're already too late.
If you think you don't need to disrupt your existing model, you're wrong! It's the horizontal theme of disruption and no business is immune.
You can find out more about Small Robot Company HERE.
Interested in discovering what the future might look like for your industry? Then get in touch NOW and we'll help prepare you for action.
Want to talk?
To find out how your organisation can better collaborate
Stay in the loop.

Sign up to our newsletter