Smart Mobility in Cities
The COVID-19 crisis has highlighted the role of digital in all aspects of business and society. As travel and mobility have been impacted by the crisis, it's thrown into relief the work of both innovative startups and established tech giants in using sensors, data and AI. As we begin to re-evaluate if, when and how we travel, the insights we now have can make a significant impact on public health, risk and business sustainability.
So?
The COVID-19 crisis has touched every aspect of urban-dwellers' lives. Public health experts worldwide were quick to identify mobility as a key contributor to the spread of the virus. Orders to stay at home have made a significant contribution to reshaping and flattening the curves of both infection rates for the disease and mortality. Nations are only now beginning to see the benefit of the lockdown which they have endured for the last two months.
Understandably, all eyes are still on headline infection and death rates worldwide, nationally and regionally. At the same time, deep integration of location and mobility tracking into transport, mobile phones and wearables has enabled us to watch in almost real-time as urban commutes have ground to a standstill.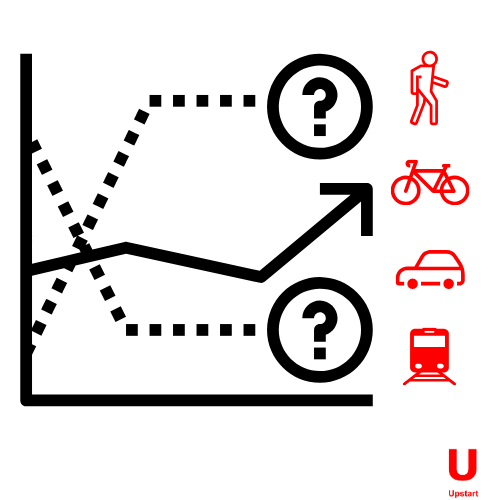 Services such as CityMapper help individuals and companies in 41 of the world's busiest global cities plan and complete multi-modal journeys. Initially designed to make cities more usable, it has generated powerful data sets.
In the wake of COVID-19 the Citymapper Mobility Index provides a unique insight into how stay-at-home orders have been affecting journeys in urban areas worldwide.
Let's take Barcelona for example. Currently, 8% of the city is moving. 5 weeks ago that figure slumped to just 3% while 10 weeks ago it was at 61%.
The concept isn't new. For years, mobility players have been building aggregated data models. The most obvious one is satellite and navigation player TomTom. By using anonymised data from 600 million drivers, who use TomTom tech in navigation devices, in-dash systems and smartphones around the world, they are able to build up a picture of Urban congestion over one year, looking at real-time data by week and days.
(In case you're wondering, 416 cities across 57 countries on 6 continents were analysed, with a staggering 356,601,200,370 km of data collected).
Major tech players including Google and Apple have also been building mobility information services for years. Using satellite information in real-time, Google is able to overlay real-time traffic onto maps using satellite data.
Meanwhile, Apple, recently opened up access to their mobility data, to deliver insights into how COVID-19 is changing our cities. Using aggregate anonymised information from users of their navigational app, Apple Maps, they're collecting a set of "Mobility Trends Reports" which highlight the change in routing requests for three modes of transport; driving, walking and transit. They're hoping this data will provide helpful insights that local health and government authorities can use.
Looking specifically at the mobility trends for London for today's publication date, driving is currently down -46%, walking -57% and public transport -80%.
So What?
These changes have happened gradually over the past two decades. But the recent mobility crisis has highlighted both the extent of data gathering and exploitation and also the need to use that data. The introduction of contact-tracing apps in multiple countries identifies clearly that there is an acute and immediate need to exploit individual and aggregated location data.
There are significant avenues for exploiting data beyond this immediate crisis; air pollution is also a significant but invisible environmental threat to health globally. There is emerging evidence that the Coronavirus may travel on airborne pollution. So the use of air quality smartphone apps could be used to protect workers, and also aid the insurance industry as it seeks to limit harmful movement and public or corporate liability.
There is potential to integrate such data into journey planning. There are also significant opportunities to replace and augment human involvement in such aspects as delivery, public and private transport.
In our last blog post, we reviewed the part which robots are playing, assisting humans across a range of industries, particularly delivery of goods. Robots are being used to "un-man" more laborious and repetitive tasks. The automotive and delivery industries have been envisioning and trailing and their own mobility ecosystems, something which is being rapidly accelerated in the COVID-19 Crisis.
The data gathering and analytics capability which has been built in mobility will now be relevant in every other sector. Health, retail, manufacturing and almost every conceivable sector will need access to multiple data sets in order to ensure the continuity of their business and the safety of their workforce.
So Now What?
These are disrupted times. Before the crisis, technology was working away, rewiring and slowly changing the way people travel and do their jobs, and the way in which companies do business. COVID-19 has delivered a massive disruption to all of that, accelerating change in ways which would not have been possible at the start of the year.
Every business now has a duty to keep its workers safe. Companies like Ferrari have already launched a "Back on Track" policy, developed in conjunction with virologists to create a safer working environment. Workers have the opportunity to use an app which provides medical support and monitoring.
What all this signifies is that new data and new partnerships are required to anticipate and manage risk. For your business, this can also deliver opportunities to build new partnerships in areas where you previously had none.
Here are three things you need to be thinking about now:
Find the Gaps: What data do you currently not have in your organisation? Who are the industries, companies or entities who could supply it? Draw up a shortlist.
Enhancements: When you put multiple data sources together you enrich the picture of your customers, your assets or your workforce. What might location, speed or other factors such as mood or sentiment do to enrich your ability to understand?
Predict: In the last two months, every organisation has had to model and remodel, constantly changing plans and assumptions. This will continue as the course of the virus and the economy play out in months and years to come. How can you use your existing and other third-party data streams to better predict what you know about in these uncertain and disrupted times?
Want to talk?
To find out how your organisation can better collaborate
Stay in the loop.

Sign up to our newsletter