Strategy: Why Speed No Longer Kills
Time is precious. Many legacy businesses are operating with outdated, cumbersome systems which are designed to minimise risk, and so slow down or halt meaningful change. At the same time, digital disruption is happening all around us; coming from nowhere and at an alarming speed. Sometimes that's where the best business ideas come from. Out of nowhere. Simple in nature, quick to implement, with the ability to build>measure>learn, grow and scale.
So?
Many businesses are founded upon systems and processes that are antiquated. Designed to protect and manage against any significant change. Intended to deliver consistency and predictability, not handle subversion and disruption. Previously strategy has relied on the numbers. Crunching them, re-running them and taking a year to get it right. Competitor analysis and endless slides to avoid potential failure.
In the outside world, digital is rewiring everything. By the time your business has caught up with what's happening and you've implemented a new plan of action, that strategy could already be obsolete.
Business strategy consultancy as we know it is broken. Stuck in the 20th century, while technology is moving at pace, uncovering pockets of demand, servicing them and growing from niche to mass. That's why at Upstart, we embrace speed as one of our three core values - along with truth and clarity. It's a vital component of responding to digital disruption happening within your own business.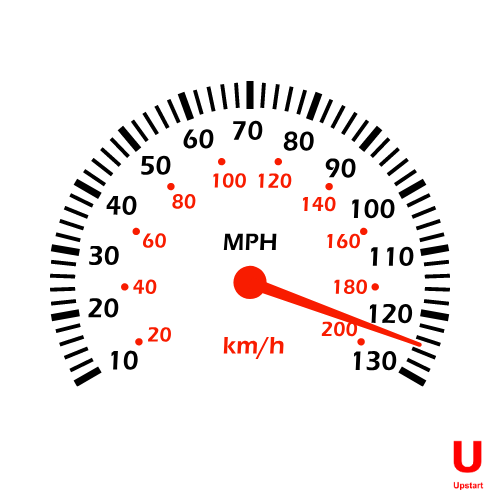 Disruption no longer allows the luxury of time.
Now more than ever, you need to be looking not just to what your competitors are doing, but what's happening in asymmetric businesses. You can also learn a lot from DevOps as we uncovered in a recent blog post.
Take the classic example of Airbnb. In just under 11 years it has grown to a staggering $30bn company. The latent market for renting and buying rooms was not obvious, and one which the legacy travel industry - focused on hotels and holiday lets - did not recognise.
Founders Joe Gebbia and Brian Chesky dreamed of using digital tech to connect travellers with spare rooms. Eleven years on and they currently list over six million rooms in 81,000 cities worldwide. All because the founders identified - and quickly - responded to a gap in the market.
So What?
Changing from 20th Century, industrial strategic thinking to 21st Century digital strategy needs a change in mindset and toolkit.
What used to be a long and drawn-out process, driven by spreadsheets and balancing numbers now requires an element of risk. In a world where ownership has become somewhat of a liability, you can rent a room, a bike, a car or even someone else's wardrobe. Digital has made all these things possible.
Lowering risk used to be about getting more information. Now it's about acting faster on the same information.
Upstart's Strategy as a Service "StraaS" approach helps with that— providing valuable market scanning, insights and understanding of what's happening not just in your industry but more crucially, outside of it.
Industries need to adapt to asymmetric competition. The kind that the hotel industry missed when they neglected to keep an eye on what Airbnb was instigating. Marriott International is finally responding to the threat by becoming the first global hotel chain to launch a home-rental business and Hyatt and Hilton are said to be considering similar strategies. But is it all too little too late? Have they missed the proverbial boat?
The speed of digital means that you simply can't afford to do strategy like you used to.
"Speed Kills" might still apply to road safety, anti-drug messaging or even law-making. But as Bill Clinton's campaigners found out in campaigning, it's the lack of speed which leaves you a sitting duck.
Speed is the prize, correctness the casualty.
So Now What?
The key is to see disruption not as a challenge but as an opportunity. To fend off the disruptors by becoming a disruptor. Avoid any temptation to manage, control or tame disruption - that's an illusion.
Here are our key takeaways.
Understanding - Take a close look at what's going on around you and keep your eye out for disruptors. Ensure you maintain a much wider radar and focus of attention than previously to ensure you don't miss out on any pockets of opportunity. If you work in the transportation sector, look to what's happening in the world of accommodation, healthcare and vice versa.
Space - Give yourself and your business the dedicated space to explore new strategies - make this part of your new business as usual. Ensure you get yourself organised by hosting all your tools and techniques in one accessible place.
Planning - You're only as effective as the action you take so act quick, yes, but make sure that you have tools and teams in place to support this new activity. Foster a working environment that encourages conceptualisation; a supportive space where time is dedicated to fluid thinking.
Need inspiration? Read how Japan's need for speed led to the nation building a new, separate, dedicated train system - Shinkansen or Bullet Train - separate from the legacy network built around the mountainous terrain.
Want to talk?
To find out how your organisation can better collaborate
Stay in the loop.

Sign up to our newsletter