Cities are back on the move
Just over a year ago, the future of travel was thrown into question as the COVID-19 crisis transformed every aspect of our lives. One year on we're left wondering how towns and cities - and how we move around them – will look in the future. Is it possible to rebuild resilient cities?
So?
Travel was a key factor in the transmission of COVID-19, with a 'stay at home' order imposed to curb the spread of disease in many countries including the UK. With the vaccination rollout, a post-COVID world is finally in sight, where people can once again move around freely.
Many things have changed, however. People have become used to working from home – how will that impact the transport system? Will the uptake of online retail overshadow the high street so much that it reduces transport into cities? And what about the shift towards more environmentally friendly and healthy transport options? Having spent many months on foot or on a bike, will people return to their seats on buses, trams, and trains?
So What?
With fewer people coming into town to work and shop, bustling neighbourhoods and busy commuter lines are still quiet. With less office and retail space allocated to tasks that could be carried out remotely, transport links also need to be reconsidered.
Many businesses moved fast, transferring workers' activities to their homes, with increased uptake in new telecommunications platforms powered by digital technologies. This shift away from commuting is likely to have a permanent impact on transport use at different times of the day and the timetables operated by operating companies. According to ARUP, 44% of respondents think that mobility will be permanently reduced by remote working.
This has already triggered a collapse in high street retail, creating a vacuum in our city centres. Businesses that rely on commuters including taxis and buses, cafes, and restaurants have struggled through the pandemic with the help of furlough and other government support schemes. The long-term future is less secure.
When we last looked at the CityMapper mobility index last April, used by 41 of the world's busiest global sites to plan out multi-modal journeys, the results confirmed that people were taking the stay-at-home mandate seriously.
Let's compare what's happening to the mobility index of certain global cities one year on.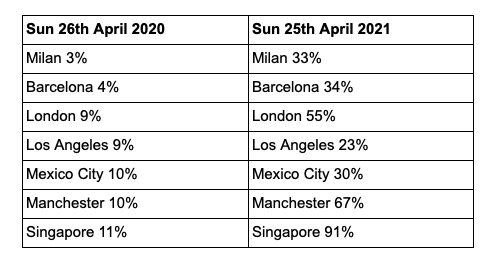 The only place that's close to pre-Covid mobility levels is Singapore at 91%. Hardly surprising given that even the BBC calls it the best place to live during Covid.
This small Asian island has returned to near normality, helped by strict travel rules and tight border security with arrivals instructed to quarantine for 21 days.
At the same time, Singapore has installed open Wi-Fi at MRT stations to generate useful digital insights into crowd behaviour that can be used to determine new transport timetables.
The data also reveals that as people slowly return to urban centres, methods of transport vary from city to city.
For example, according to Apple's mobility trend data, London looks to be getting back behind the wheel again.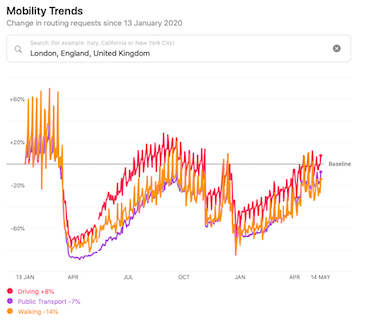 So Now What?
As lockdowns ease, all eyes will be on the key dates in the UK government's schedule, especially May 17 when most businesses in all but the highest risk sectors will be able to reopen. Indoor hospitality also gets the green light as will entertainment venues such as cinemas and children's play areas. The rest of the accommodation sector, including hotels, hostels and B&Bs are also included as are indoor adult group sports and exercise classes.
Given the precarious status of many of these businesses, we can expect to see mayors and local authorities doing their utmost to attract commuters and tourists back to city centres in the coming months.
In many cases this involves accelerating initiatives that were on the planning table or already underway before lockdown started. Some of these are related to transport directly: fewer cars, more bike lanes, more electric vehicles and sustainable buses and trams.
Then there are initiatives that aim to improve the well-being of city residents. The '15 minute city' is a recent concept where everything you need as a resident, from shops to schools to office or restaurant, is less than a quarter of an hour from your doorstep by foot or bike.
This disruption offers significant opportunities for businesses that can align with these initiatives.
Here's what we recommend:
Pivot and repurpose - can you adapt your current business model to meet shifting demand? Take Uber for example. It's already expanded its core-hailing service to include food delivery and we can expect to see such platforms deliver a wider range of courier services in the future.
Invest in critical infrastructure - don't wait until it's too late. Now is the time to invest in the future of your business. The UK government has unveiled a £2bn package to put walking at the heart of a post-Coronavirus transport plan. Think about the tactical investments you can make.
Unlock the value of your data - Singapore is collecting passenger behaviour data collected via Wi-Fi hotspots to improve public transport services. How will you tap into your business data to make the most of new opportunities?
As we approach the new normal, there's certainly an opportunity to use the lessons from a global crisis to rethink our local transport challenges and create a more sustainable future. This creates a wave of new business opportunities that are within your grasp now.
Upstart deals with digital disruption across multiple business verticals. Get in touch with us TODAY.
Want to talk?
To find out how your organisation can better collaborate
Stay in the loop.

Sign up to our newsletter