What's In a Breakthrough Strategy Project ?
Breakthrough Strategy is an approach which borrows from lean startup product techniques and design thinking. It works in focused, time-bound "sprint" sessions. We've already outlined why it's needed.
Here we look at how a project unfolds and what's goes on in each sprint in an Upstart session.
Breakthrough Strategy is about responding to digital disruption at speed.
The approach focuses on collapsing timelines, empowering teams to take responsibility for the solution and committing them to action.
Each project has three focused phases - we use the agile development concept of "sprints" - short, focused collaborative sessions with a single clear objective. At each stage we prize outcomes over outputs and deliver a Minimum Viable Presentation rather than a comprehensive bulletproof deck.
These three sprints - Understand, Think, Plan - are sandwiched between an initial diagnosis session to find the problem, and an aftercare package to supports teams as they go back into the business.
Whether you're a seed-funded startup taking a day out to nail product strategy, or a globe-straddling corporate wrestling with AI in three weeks, the approach is the same.
Anatomy of a Breakthrough Strategy Project:
Sprint 0: Problem.
Everything starts with a problem. If you can't articulate (or admit to) one then we can't start. This time is all about diagnosing or framing the problem, in the way a doctor would push, prod and tease out where it hurts. This is where we get the "Why" for the project
No-one calls a doctor when they're well.
Sprint 1: Understand
Building a common understanding through evidence is vital. We answer questions together such as:.
What does the technology enable?
How many new entrants are there in this field?
How are they using digital to create new models?
How fast are they growing?
What's the experience ?
How well are they funded?
Is this actually happening?
How worried should I be?
For this we use our Upstart Scan database and our Understand scrapbooks to prepare and build an this evidence base. We might take a deep dive into a disruptive service, using it hands on or in our Fly Past audit. We may look at new entrants in other fields and how they are positioned to disrupt.
If we understand the same thing, we can agree to differ on what they mean.
What's the Output Here ? A Minimum Viable Presentation in scrapbook style, gathering what the team said, saw and drew.
What's the Outcome Here? The team understands the size and scale of what's going on and grasps the reality.
Sprint 2: Think
This is where we bring in design thinking. Imagining an ideal response can get to a direction quicker than any spreadsheet. We set the conditions for thinking about the ideal scenario and "diverge" to open up the mind. Then we converge and ask questions about capability.
After a second round we come up with a "thing". We have no point of view what that could be. It could be a business model, a product, an approach for partnerships, a new sales technique.
Business as usual does not create breakthrough thinking.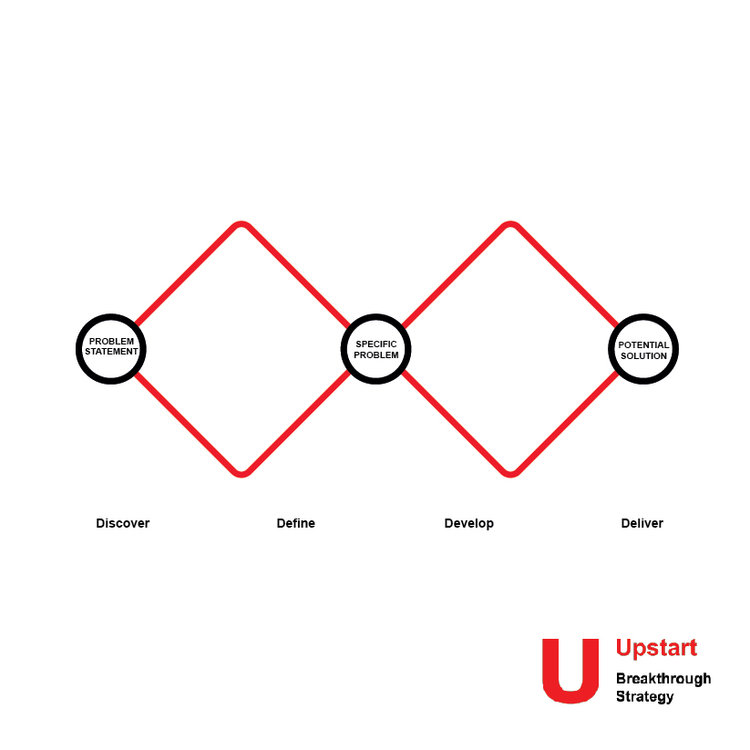 What's the Output Here ? A Minimum Viable Presentation with the concept created in the sessions.
What's the Outcome Here? The team has created a concept themselves and understands how far it is from becoming reality.
Sprint 3. Plan
Strategies which fail on execution do so because they lack a plan, commitment and buy-in. We spend just as much time on planning as we do on understanding and thinking, so the team emerges with budgets, timescales, a map of who needs to help, and a crash roadmap for beginning to build measure and learn whether their idea will work.
The team with the idea then has the will and capability to act on that.
What's the Output Here ? Minimum Viable Presentation with an action plan
What's the Outcome Here ? = The team has created a concept and is motivated to follow up from the next day back at work.
Aftercare.
Teams invest time and their own personal capital in a project When they return to the fray it's easy to let business as usual take over. Our aftercare sessions provide a checkpoint to see how well they're doing and to challenge managers when they're not empowered to act.
How Long Does It Take?
We can run Upstart over three weeks, with three sprints taking the middle three days of each week. Your team is with us for nine days in total.
To get movement in a shorter time. we have Upstart Express, where we run the same three-stage process over three days
For the brave, we have Upstart Extreme where we take a small team and run this over a day and a half.
Aftercare sessions take place at one, two and four weeks after the end of the last sprint
Where Does it Happen?
We run smaller sessions in the Upstart Hub in East London, For larger groups of three or more, we can run this at Innovation Warehouse in London's Smithfield.
For clients who want to run Upstart onsite, we'll travel, but insist the session takes place away from the usual site of work to free minds and create a space without distraction from the business.
How Much Does It Cost?
Pricing a strategy project shouldn't be like asking "how long is a piece of string" ?
Our strategy process has a fixed timeframe to ensure we deliver movement and avoid analysis paralysis.
This enables us to provide a fixed price for the core service. We then incentivise ourselves through quality of outcomes, rather than man days or numbers of slides.
If you really want to know more we have clear, transparent pricing which we're happy to share with you - get in touch if you're genuinely interested.
Want to talk?
To find out how your organisation can better collaborate
Stay in the loop.

Sign up to our newsletter