Why Digital is At Home with Coronavirus Disruption
There is no business which remains unaffected by Coronavirus. The rapid move to remote working is one example of how a health crisis has driven a new kind of digital disruption. Once safe, business leaders should learn from the speed and scale of the transformation which has taken place this month.
So?
Officially declared a pandemic by the World Health Association, Coronavirus has brought businesses untold disruption; physically, mentally, financially - and also digitally.
Shock waves are now being felt throughout the global economy. Companies such as yours are now forced to operate under unprecedented and challenging conditions, as all but essential workers are asked - or forced - to stay at home.
Business life and home life have been disrupted in unanticipated ways, not all of them bad. New ways of working (Zoom, Microsoft Teams and Slack) and socialising have been adopted at speeds which would have been unthought of even at the start of this year. When work is done, pensioners are enjoying family video chats and quickly embracing the use of emojis, and family quiz nights are taking on a whole new digital dimension.
Sectors such as travel events, entertainment and bricks and mortar retail are facing an existential crisis. The World Travel and Tourism Council anticipates the loss of 50 million jobs because of the pandemic, suggesting that the industry could shrink by up to 25% in 2020. Yet some industries are benefiting from disruption.
Even before the lockdown, collaboration tool Zoom, for example, had added more users by the end of February 2020 than in the whole of 2019. Industries such as telehealth, remote learning and connectivity are experiencing high demand. Food delivery and digital subscription services are on the increase – UK takeaway sales were up 8.7% in February alone while Netflix enjoyed a 12.4% rise. Search volume on healthcare topics has risen exponentially.
Like all disruptive change, the sudden arrival of Coronavirus will quickly establish winners and losers.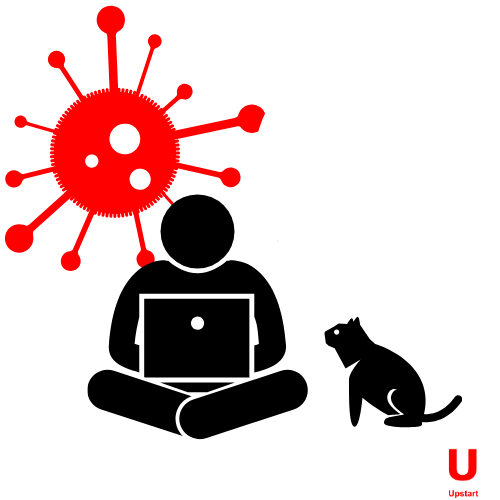 So What?
There are strong parallels between the way in which this virus has affected business and the way digital disruption takes hold.
At first, the threat to European and American businesses remained remote. It was seen as happening elsewhere and the threat was not seen as real or relevant. Collectively and individually, there was denial, delay and deception in the face of a threat which was not only real but also potentially catastrophic.
Yet once faced with the reality, most nations and companies reacted with speed and pragmatism. Knowledge-based workplaces were cleared almost overnight, and new home-working policies were implemented within days.
The speed and scale of such changes have been astonishing.
Technology to enable home working has existed for a decade. Broadband, cloud tools and collaborative software are not new. Yet, fearful about productivity and control, businesses which reluctantly and slowly adopted teleworking over years now find their entire workforce at home. And with lockdowns set to be in force for months, this is likely to cement home working as a viable future option within companies that had previously dismissed the idea.
Business disruption from Coronavirus has driven rapid digital disruption.
And while debate rages about what "normal" will look like when (or if) a vaccine is found, the reality will never be the same in industries where rapid adoption of remote working (and health, and learning and shopping) has forced changes in the last month.
So Now What?
These are challenging times for every industry leader. Whether your business is struggling to survive, or scrambling to meet unprecedented demand, you are being tested to the limits of your endurance and ingenuity.
However, any rapid response and mobilisation to this immediate threat needs to be congratulated.
When your team has successfully adjusted to working remotely, maybe take an hour or two out of your day, and give thought to the following:
How change-averse was your business? How rapidly did your teams and your colleagues adapt to the new situation? This can give you a good indication of how quickly the same people may be able to respond to new business models and propositions which digital will inevitably enable.
What lessons can you learn? Chances are most businesses were more focused on perceived threats such as economic downturn, cyber security, data breaches or terrorism. The current pandemic was a black swan event, heavily discounted as an outlier: unlikely, but catastrophic when it arrived. How widely do you need to be looking in the future, and what can you do to scan and identify digital or real world topics on the horizon and understand what threats or opportunities they pose?
How could you recreate the sense of urgency? The Innovators and digital strategists we speak to are all frustated by organisational inertia. Colleagues in "business as usual" rarely perceive future threats. Only when it's upon them do they finally realise that it's time for action; by that time, the opportunity to act has often passed them by.
The speed and scale of movement to act in the face of coronavirus could be recreated.
What would it take to bring similar momentum to your cause? How can you capture and capitalise upon that fight or flight emergency response in your business going forwards?
For many industry leaders, we know it's too soon to focus on anything other than the challenge of surviving the next 28 days. However your business needs to be ready for recovery - now is the time to rally and get prepared to capture a resurgence in demand when the time comes. Time spent preparing now can lead to emerging, stronger and more resilient than ever before. Looking back to the 2003 SARS epidemic, many Chinese businesses suffered months of economic contraction, only to then rebound dramatically.
If you want your business to not just survive, but also thrive, now is the time to be prepared, not when the upturn comes. Whether you're ready to act or just want to talk, we'd love to hear from you. Find Out More and Get In Touch.
Want to talk?
To find out how your organisation can better collaborate
Stay in the loop.

Sign up to our newsletter